Continuing our "Meet The Team" series, this week we bring you another one of our Product Specialists, Miranda Robinson! Miranda has been with us since April of 2016 and recently upgraded her ride to a brand new 2018 Toyota 4Runner - which she absolutely
LOVES!
Why does she love the 4Runner so much? "Because it can take me anywhere my heart desires!" says Miranda. If you know Miranda, you know that could be the mountains, the beach, the forest.. anywhere! And the 4Runner is built for when your adventure requires more.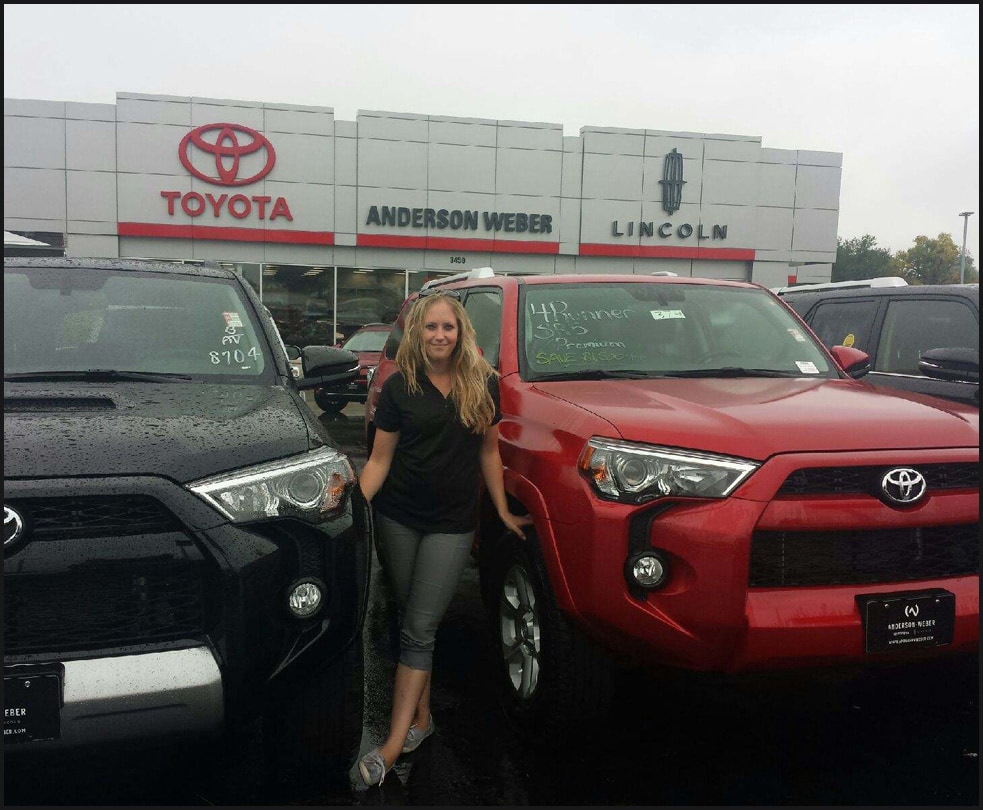 1.
What do you enjoy most about your job?
Working with people - everyone from my co-workers to the general public. No two days are ever the same and I thank my goofy co-workers and wonderful customers we deal with daily in all departments.
2.
If you could trade places with anyone in any department, who would you pick and why?
No one! I've already had the opportunity to work in service and parts, but sales is where my heart is. I went to school for auto body and tech work, I've worked in the parts department elsewhere, and nothing felt quite like home until I tried sales.
3.
Who inspires you?
My husband, Scott. He's just a good human with a great personality. He also gets brownie points for being able to handle a car like nobody's business!
4.
If you could pick up any skill in an instant, what would it be?
Drive like Ken Block! If you don't know who he is, you HAVE to check out this video of him in this Mustang, just running the streets of LA! Have you ever seen someone do an AWD 4-Wheel burnout? Watch the video - you won't be sorry! (
Click here
to check it out!)
5.
Who had the most influence on you while growing up?
My mom. She was a single parent who gave me my first set of Hot Wheels and here we are today!
6.
What do you like most about Anderson-Weber?
Owners, Tim and Jeff Weber, are just amazing! The way that they treat their customers and their employees is unlike any other place I've ever worked.
7.
Why should someone come see you about a new-to-them vehicle?
Because I'll treat them right and I'll be with them through the life of their vehicle from purchase to service to parts and everything in between.
Thanks Miranda! For any and all of your vehicle needs, here is how you can get in touch with Miranda: