We're back in action on the What's Up Wednesday blog after a little holiday break and boy do we have some news for you!
The 2019 Toyota RAV4
is redesigned and better than ever! Don't just take our word for it - check out this side-by-side comparison with one of the "other guys" by our friends at AdvantaSTAR. Don't worry, we just highlighted some bullet points. If you want the full novel version of why Toyota dominates, just
click here!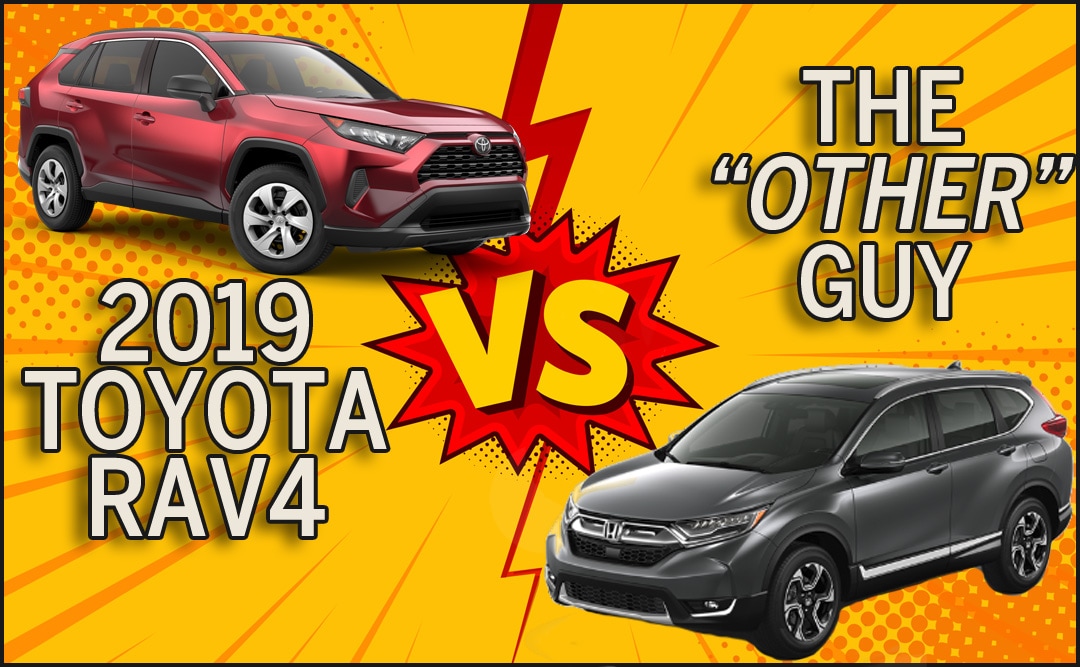 2019 Toyota RAV4
vs. 2019 Honda CR-V
Safety: Over 200 people are backed over and killed by a vehicle each year. Toyota offers optional Rear Cross-Traffic braking which uses rear sensors to auto-apply brakes to prevent a back up collision. The CR-V does not. There is also the optional "Bird's Eye View" camera on the new RAV4 vs only a rear camera monitor in the CR-V.
Complimentary Maintenance: Toyota offers ToyotaCare, which is 2 years / 25,000 miles of worry free maintenance, covering your oil changes, tire rotates, and inspections during that time. Also free 24/7 Roadside Assistance. Where is Honda on that? Not available I'm afraid. There are also 18% more Toyota dealers than Honda dealers making finding a service center that much easier!
Fuel Economy: The RAV4 is more fuel efficient than the CR-V.
Towing Capabilities: The RAV4 can tow up to 3,500 lbs vs the CR-V 1,500 lbs.
Reliability: Overall, Toyota is ranked more reliable than Honda by a long shot. Consumer reports lists Toyota as #2 with Honda coming in at #15.
These are just a few bullet points on why you should seriously consider the 2019 RAV4 vs. The "Other" guys, but don't just take our word for it - come check out the all new
2019 Toyota RAV4
for yourself and take it for a spin! You won't be sorry.