Summer is officially over which means it's time to start thinking "Fall maintenance" for your Toyota. It's never too early to make sure you're ready for life's hiccups and this is just one more way to make sure you're prepared. Here are a few things to check over so you're not left out in the cold when it counts the most: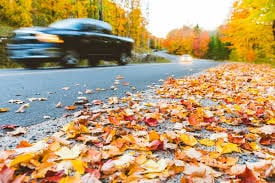 Check your tires - pressure AND tread depth. Changing outside temperatures can cause the pressure to fluctuate and low tires means bad gas mileage and the potential for tire damage. Check your tread depth for uneven wear or tread depth. You might be due for a rotation or new tires. (STAY TUNED - TOYOTA TIRE SALE STATS OCT1st! - Buy 3, get one for $1!!)
Brakes - while you're checking your tires, look over your brakes as well. You may need them replaced before the weather takes a turn for the worse.
Battery test - have your battery tested to make sure you're not left stranded when you need it most. PS - if you check our service coupons, you may be able to find one for a FREE battery test!
Fluids - everything from engine coolant to oil to windshield washer fluid, you want to make sure everything is topped off and good to go. When you schedule your service with Anderson-Weber, your multi-point inspection and fluid top-off is standard so let us take care of the dirty work for you.
Belts and hoses - now is the time to have your belts and hoses inspected for cracks, tears, or potential leaks before the freezing temperatures and inclement weather. Save yourself a headache now and just give them all a good once-over.
Emergency Kit - it's never a bad idea to have a few items on hand should you get stranded. Some items to leave in your car year round are: jumper cables, tire gauge, flash light with extra batteries, duct tape, a small first aid kit (bandaids, antiseptic, wraps, etc for those just-in-case moments), tire iron and jack, and a windshield scraper. Depending on the season, you may want to add a few extra items such as a change of warm clothes, extra blankets, bottle of water, and even energy bars/snacks. You can never be too careful when it comes to a winter experience in the Midwest.
When in doubt, let the experts at Anderson-Weber help you out. We offer a multi-point inspection with every oil change and tire rotation, but can also provide you with an Autumn Auto Check and make sure your Toyota is running in tip-top shape. Check out service specials and coupons for quality savings today!